Venue address:
National Space Centre, Exploration Drive, Leicester, LE4 5NS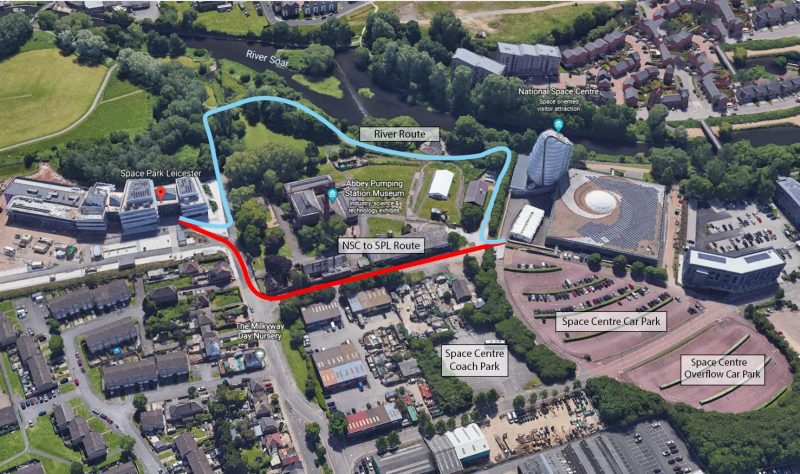 Please find below some travel information to help you get to the UK National Earth Observation Conference 2022, at the National Space Centre, Leicester
Getting here by car:
The National Space Centre is located just off the A6, two miles north of Leicester City Centre, midway between Leicester's inner and outer ring roads.
Brown road signs with a distinctive rocket logo will direct you from the arterial routes around Leicester. There are over 400 parking spaces in our car park, including 23 enhanced accessibility spaces – parking for conference delegates is complimentary.
By Bus
From: Leicester Railway Station to Abbey Lane
As you come out of Leicester Railway Station you will have to cross the road to reach 54A bus-stop.
This bus will take you to Abbey Lane stop (near ASDA) which is the nearest stop to the National Space Centre. Note – you may have a wait of up to 10 minutes at the Haymarket Bus Station.
From: Abbey Lane, Byford Road to Leicester Railway Station
You can take bus 54A to the Railway station, or bus 54, which will only take you to the Haymarket Bus station (10-15 min walk to the Railway station).
See links to download timetable.:
https://www.centrebus.info/bus-services/leicester-city/54a/

https://bustimes.org/services/54a-goodwood-beaumont-leys-anstey
https://bustimes.org/services/54-beaumont-centre-goodwood
(First Bus 54 runs every 10 mins throughout the day Monday to Saturday. The bus stop is only 6 minutes' walk away from the National Space Centre)
By Rail
East Midland Trains and Cross Country Trains serve Leicester Station.
From here you can either take a bus or a taxi to the National Space Centre.
First bus 54 runs every 10 minutes Monday to Saturday from Charles Street, a short walk from the station.
Local Taxis:
Swift Fox 0116 262 8222
ABC Taxi 0116 255 5111
Hansom Taxis 0116 233 3333
Queens Taxis 0116 2701700
A1 Airport Cars—0116 2895353 (Airport Transfers)
Airport Taxis Narborough—0116 286 5383 (Airport Transfers)